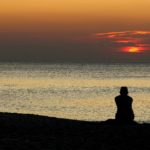 Writing is an admirable goal. If it's your dream to write, you can expect to spend many hours in a room by yourself, composing, revising, proofreading—and throwing drafts away. Is it worth isolating yourself?
If you had envisioned a dream of book tours with fans lining up to ask you to sign their books after listening to a rousing speech you presented, you're partly right. Being an author has a very public aspect. But it also includes long stretches of silent contemplation, research, and study in your field.
Writing is not a team sport.
Some writers are hermits by nature. So they're perfectly happy to spend hours, or days or weeks, without interacting with another human. And that's okay. Thoreau taught us that it's okay to be a solitary writer. With all the electronic inter-connectivity available today, we don't even have to go on book tours. All the promotion and marketing can be virtual.
But what if you don't fall into the hermit classification? You know that a certain number of hours must be spent in isolation in order to produce quality writing. That could mean enforced separation from family and colleagues until your tasks are completed. Or maybe, for you, "isolation" means sitting in the family room surrounded by activity but insulated by your noise-cancelling headphones.
"I need to be around people for inspiration," you say. It's your observation and interaction with people that give you  your best writing ideas. How can you write for people without being around people and identifying their needs, and fears, and aspirations? Valid point.
As with many things in life, it comes down to balance. What seems like isolation to me may be over-stimulation for you. Everybody needs to decide for him- or herself where that balance lies.
Isolation is not the same as loneliness. Loneliness has a negative connotation. Being alone can lead to great bursts of inspiration. That for an author is the ultimate reward.